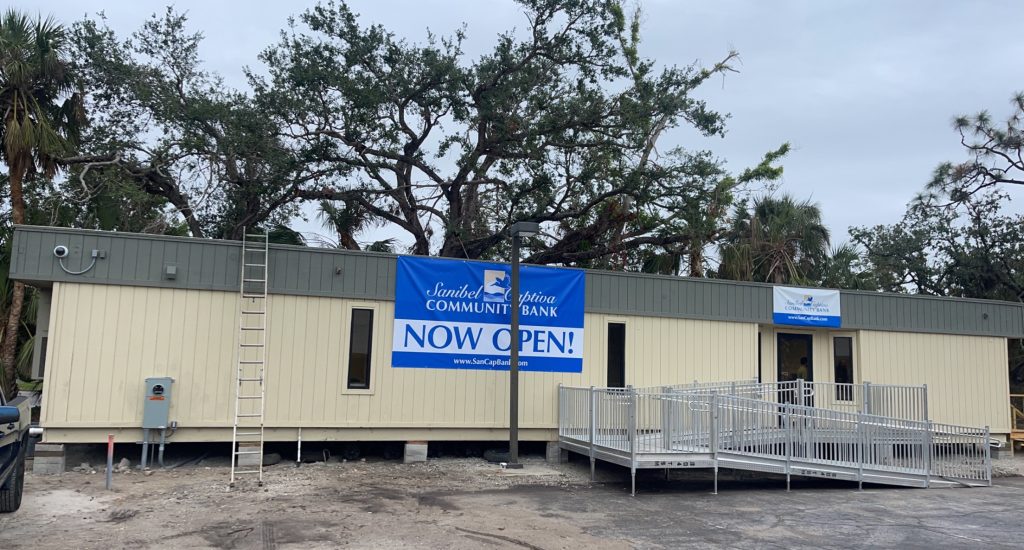 FORT MYERS, Fla. (Jan. 17, 2023) – Sanibel Captiva Community Bank has reopened its McGregor Branch in a temporary mobile banking unit at 15975 McGregor Boulevard, Fort Myers. The building experienced considerable flood damage from Hurricane Ian and requires major reconstruction. While the building undergoes renovations, the bank has acquired a fully functional mobile banking trailer. The unit includes two teller stations, a customer service representative desk and a night drop.
Bank staff will be onsite during regular business hours, Monday through Thursday, 9 a.m. to 4 p.m. and Friday, 9 a.m. to 5 p.m. Safe deposit boxes formerly located in the original building have been safely and securely transported to the bank's Bridge Branch at 9311 College Parkway and can be accessed during regular business hours.
"Our McGregor location is one of our busiest offices," said Lana Hollier, senior vice president and director of operations of Sanibel Captiva Community Bank. "Since the storm, getting back to business serving our McGregor and Iona customers as quickly as possible has been a top priority for us. We're so pleased to be able to reopen another location and help our customers take one more step to normalcy."
The bank has seven of its eight locations open for business. The 1037 Periwinkle Way Branch remains temporarily closed due to extensive damage from Hurricane Ian. For additional information or questions, call 239-472-6100.