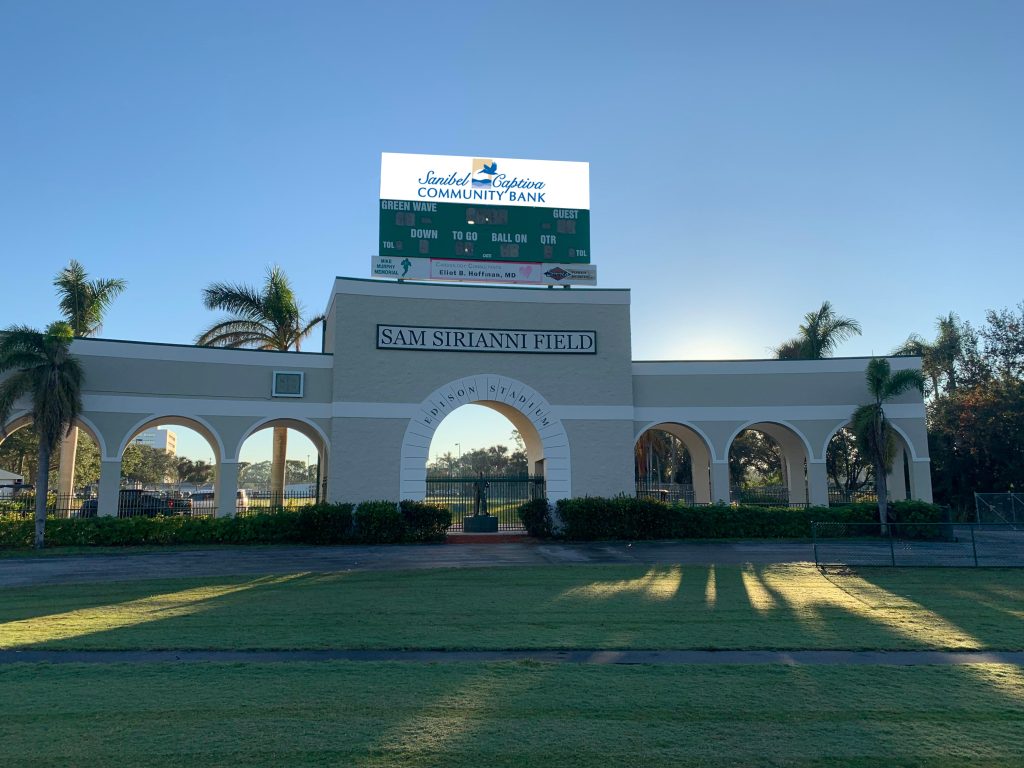 FORT MYERS, Fla. (Feb. 1, 2023) – Sanibel Captiva Community Bank and Fort Myers High School have partnered to support the renovation of the school's track and field facilities. The bank has donated $275,000 toward the project, fulfilling the $1 million the school needed to fund the project.
In 2022, the Lee County School District approved the construction of a state-of-the-art stadium renovation including the installation of synthetic turf and a new rubberized track. In recognition of the bank's donation, Fort Myers High School has given the bank exclusive corporate sponsorship of the school's athletic complex, including Edison Stadium and Sam Sirianni Field. The bank joins other generous donors, including the National Football League, Dr. and Mrs. John Kagan and other community donors in successfully raising the funds needed to complete the project. For the last eight years, the field has not been able to maintain healthy grass and has undergone five major field renovations. Construction is scheduled to begin in March and is expected to take three months to complete.
"Almost 25% of our employees have a connection to Fort Myers High School, whether they're alumni or have kids or family members who are currently attending or are also alumni," said Kyle DeCicco, president and CEO of Sanibel Captiva Community Bank. "We're committed to supporting the youth of Southwest Florida in academics and athletics, and we're honored to partner with such a well-respected, high-performing school like Fort Myers High School that's rooted in Lee County history and traditions."
Fort Myers High School opened in 1911, making it the oldest school in Lee County and one of the oldest schools in the state of Florida. It offers students the International Baccalaureate Program, Advanced Placement, dual enrollment, vocational, honors and general education classes. The school also has thirty FHSAA athletic teams and is rich in traditions. For more information, visit fmh.leeschools.net or call 239-334-2167.