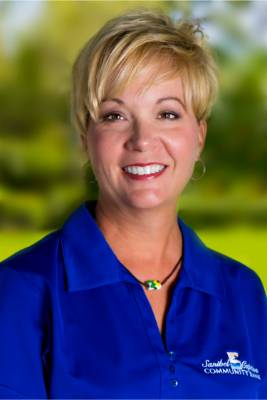 Beth Countryman was honored at the African Network of SWFL's (ANSWFL) Annual Gala Saturday, Nov. 16 at the Crowne Plaza Fort Myers with the Service to Africa Award. The award is given to a Southwest Floridian who has worked selflessly and tirelessly towards the improvement of the lives of people in the African continent. Beth lead the charge to change the way ANSWFL fundraises to support their projects. Using her extensive banking experience she implemented the ability for the organization to accept credit card donations, utilize auto debit for checking accounts and created follow up protocol for collecting pledged donations.
Countryman is the vice president of treasury management responsible for supporting business clients in using the banks suite of digital products and services. She has more than 26 years of banking experience, including previous roles as vice president deposits products manager, vice president sales and service coach and assistant vice president client relationship manager.
Beth graduated from North Fort Myers High School and attended Florida Southwestern State College. Active in the Southwest Florida community, she is the Vice-Chair of the Fort Myers Mayor's Diversity and Inclusion Council.
The African Network of South West Florida is a non-profit networking organization with the primary goal of promoting Africa's rich heritage and diverse cultures in the five counties of Southwest Florida. The organization aims at enhancing the quality of life of its members by providing support for one another through networking in economic, educational and socio-cultural pursuits. To learn more, visit https://www.africannetworkofswflorida.org/