Dear SanCap Customers and Friends,
Unfortunately, the coronavirus (COVID-19) has claimed the life of one Southwest Florida resident and, to date, there are over 26 positive cases involving Florida residents.  For weeks, we have been following guidelines from health experts and agencies such as the Centers for Disease Control and are now increasing our precautionary measures to ensure the safety and health of our customers and team members.
Currently at all locations we are taking the following steps to minimize the risks of exposure to COVID-19:
Team members have been provided additional anti-bacterial products at personal workspaces and encouraged to clean surfaces and equipment multiple times daily
Educating and reinforcing the practice of healthy habits to team members
Shared spaces such as lobbies, teller lines, conference areas and break rooms are being disinfected several times daily
Our third party cleaning service has increased cleanings to 5 days a week at all locations; in addition every weekend each location undergoes an extensive disinfecting process
Any team member who is ill or exhibiting symptoms is required to stay home until well
Equipping all team members with equipment and technology to work remotely from home, if necessary
Canceling all non-essential in person meetings and events
Encouraging and counseling customers on our digital banking products which allows banking anywhere, anytime without entering a branch, thus avoiding any disruption to their banking needs
Requiring any team member who has recently traveled to an affected area to self-isolate for 14 days before returning to work
As a SanCap Bank customer you have access to your accounts 24/7 through our online banking and mobile app available anytime, anywhere with internet access. During regular business hours (M-Th 9am-4pm, Fri 9am-5pm) you can call us at 239-472-6100 and one of our team members will be happy to assist you. If you don't currently utilize our digital banking products now is a great time to set those up. Having these available at your fingertips will make managing your money easier and convenient. For more information on these services please visit our sancapbank.com.
We are well-positioned in the event this situation worsens with our experience dealing with the preparation and aftermath of hurricanes. This gives us added strength from a disaster recovery/business continuity perspective, so we are already prepared if the COVID-19 situation continues to escalate. We are taking this virus very seriously as we know each of you are. We care deeply for the well-being of our employees, customers and community so please reach out if we can assist you in the days and weeks ahead.
Sincerely,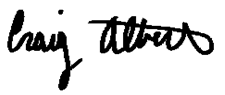 Craig Albert
President/CEO, Sanibel Captiva Community Bank