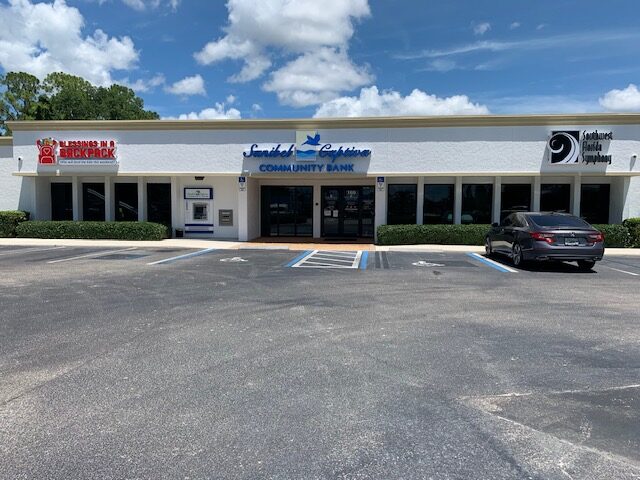 FORT MYERS, Fla. (July 23, 2020) – Sanibel Captiva Community Bank is donating rent-free office space to two Southwest Florida not-for-profit organizations in Fort Myers. The bank's operations center recently relocated from 7500 College Parkway to their newest branch at 9311 College Parkway, creating approximately 2,700 square feet of available office space. The bank has arranged for the Southwest Florida Chapter of Blessings in a Backpack and the Southwest Florida Symphony to use the space rent-free.
"We're avid supporters of both of these tremendous nonprofits and offering this space to them just made natural sense for us," said David Hall, executive vice president, CFO and COO at Sanibel Captiva Community Bank. "Particularly now, when nonprofits are facing increased difficulties to fulfill their missions, we are very pleased to be able to support their efforts."
Blessings in a Backpack works to provide food on the weekends for elementary-aged children who would otherwise go hungry. Every Friday afternoon, children receive backpacks filled with kid-friendly, ready-to-eat items.
"I cannot express enough not only my gratitude, but also sheer excitement of having real brick and mortar space at SanCap Bank!" said Cecilia St. Arnold, managing director of the Southwest Florida Chapter of Blessings in a Backpack. "We're thrilled to be moving in our new office space that will help us grow our volunteer base and the number of children we can feed in Southwest Florida."
As Lee County's only professional orchestra and one of the oldest symphony orchestras on Florida's Gulf Coast, Southwest Florida Symphony now has a new home to settle into for its administrative and library accommodations.
"We are eternally grateful for the bank's advocacy for professional orchestral music in our community, as well as their exceptional generosity," said Amy Ginsberg, executive director of the Southwest Florida Symphony. "We are excited to settle in, get to know our other new nonprofit neighbor and, when conditions permit, invite the community in for a tour of our beautiful new space."