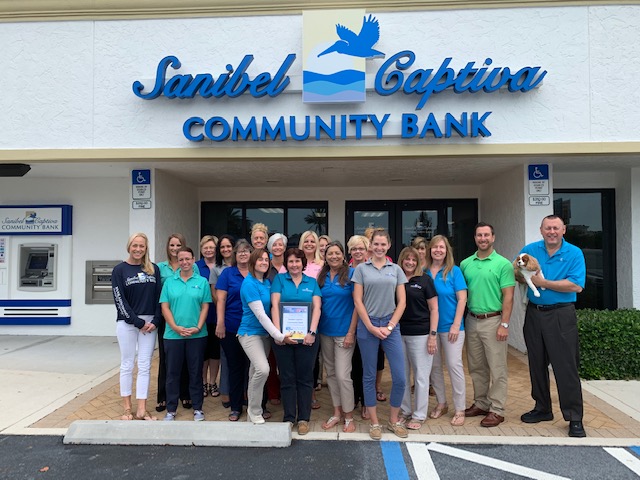 FORT MYERS, Fla. (July 23, 2020) – For the third year, Sanibel Captiva Community Bank's board of directors rewarded bank employees with a bonus from the bank's savings under the federal tax law. The bonus is a show of appreciation from the board for the employees' ongoing hard work and contributions to the bank's continued success.
"Our people define who we are as an organization," said David Hall, executive vice president, CFO and COO of Sanibel Captiva Community Bank. "We recognize the way we treat our team members serves as a model for how we want our customers to be treated, and we try to take every opportunity to reward employees accordingly."
Sanibel Captiva Community Bank actively focuses on keeping its team engaged. As a result, the bank maintains a very low employee turnover rate of under 9%. Among all 100 employees at its eight Lee County branches, the average tenure is five years. Forty-six employees have been with the bank five or more years; 18 employees have been there for 10 or more years; and seven employees have been with the bank since it opened in 2003.Employee retention and benefits are a key component of what sets Sanibel Captiva Community Bank apart.
Employees chose from a cash bonus or the equivalent amount of paid time off. All employees, except for the executive management team, were eligible and included in the bonus.
Sanibel Captiva Community Bank invests in its team members both professionally and personally. Employees are encouraged to pursue professional growth and success, which helps improve the bank and contribute positively to the workplace culture. The bank puts forth consistent efforts to ensure employees are involved, heard and connected. Employees also recognize there are career growth opportunities within the bank, which also contributes to low employee turnover.