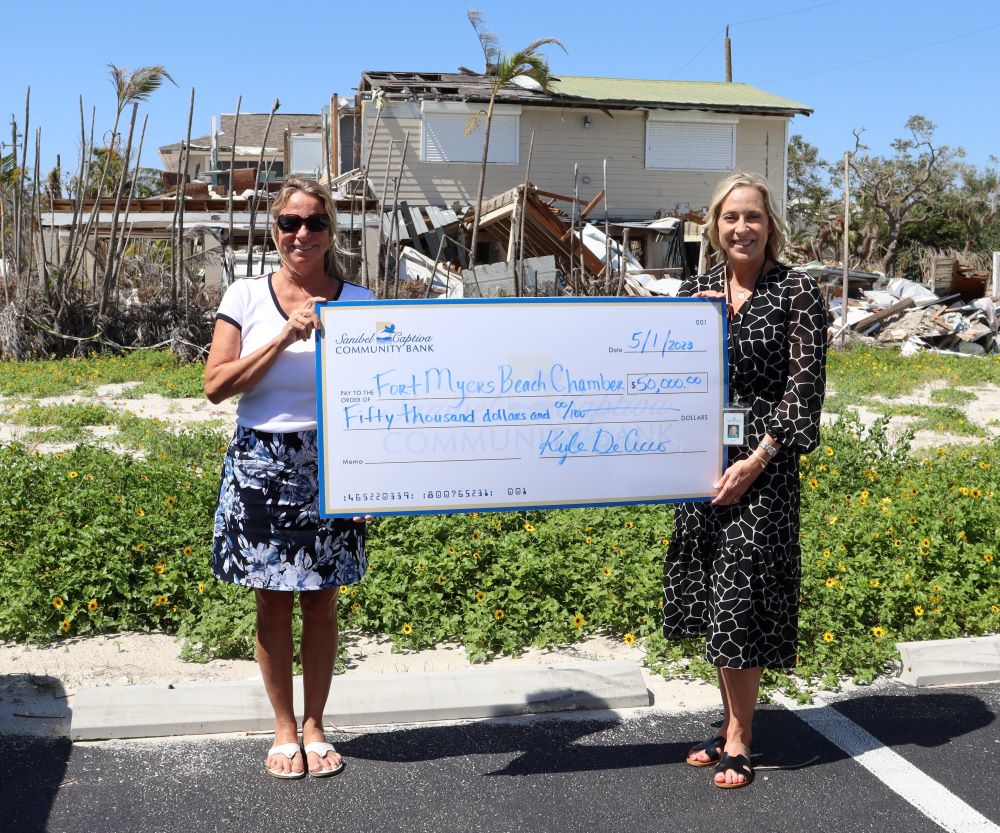 FORT MYERS, Fla. (May 22, 2023) – Sanibel Captiva Community Bank has donated $50,000 to the Fort Myers Beach Chamber to support its ongoing work to help Fort Myers Beach businesses recover and rebuild in the aftermath of Hurricane Ian. The funds will help aid Fort Myers Beach businesses, with a focus on helping island residents left unemployed in the wake of the disaster. Funds will also help sustain the activities of the chamber.
"We felt a responsibility to help our friends on Fort Myers Beach continue to recover and rebuild from Hurricane Ian," said Kyle DeCicco, president and CEO of Sanibel Captiva Community Bank. "The chamber has been helping beach businesses get back on track since the storm and we wanted to support their important work."
The Fort Myers Beach Chamber of Commerce is dedicated to providing its members the best prospects for success, growth and sustainability year-round through a strategic combination of marketing and communication efforts, visitor services, networking opportunities and political representation. The office is currently working remotely due to Hurricane Ian. The Chamber's "Roxie" (Visitor Information Center) is located at 1028 Estero Boulevard, Fort Myers Beach, and is open Wednesday-Sunday, noon to 6 p.m. For more information, call 239-454-7500 or email [email protected].