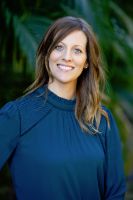 FORT MYERS, Fla. (June 8, 2021) – Kristin DiIorio, Sanibel Captiva Community Bank's vice president and Downtown Branch office manager,was recently appointed to the University of South Florida Muma College of Business Customer Experience Certificate Program steering committee.
The steering committee provides oversight for the interactive, eight-week online program that teaches participants how to apply principles that drive customer experience using techniques developed by top companies. The program also teaches how to integrate strategies and methodologies to measure, evaluate and improve the customer experience in participants' own organization.
"We're extremely proud of Kristin for investing her time in such an exciting professional growth opportunity," said Lana Hollier, Sanibel Captiva Community Bank's senior vice president and director of deposit operations. "Her experience will help our entire SanCap team continue to live up to our promise of delivering exceptional customer service."
DiIorio joined Sanibel Captiva Community Bank in 2016 to lead the bank's downtown Fort Myers branch. She manages daily operations and customer relationships, including business and consumer banking. With more than 15 years of banking experience, she has helped the Downtown Branch grow and cultivate a healthy customer roster within a range of industries, including legal, hospitality, finance and construction.