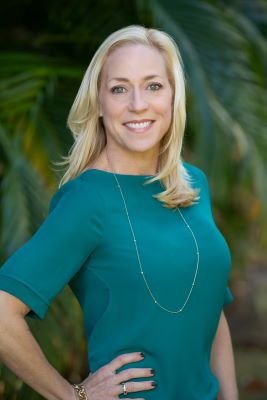 FORT MYERS, Fla. (Oct. 27, 2022) – Amy McQuagge was been named a finalist for the Nonprofit Volunteer of the Year award at the sixth annual Cape Coral Community Foundation's Excellence in Nonprofit Performance Yearly Awards held on Oct. 18. McQuagge was recognized for her volunteer work with PACE Center for Girls, a Southwest Florida nonprofit dedicated to providing girls and young women an opportunity for a better future through education, counseling, training, and advocacy.
McQuagge began her involvement with PACE by joining the board of directors in 2020. Currently, she serves on the executive committee as the resource development chair. For three years, McQuagge has also co-chaired the Love That Dress!, one of the organization's largest fundraisers and signature event. She was recently elected to the board of directors for the Guardian ad Litem Foundation 20th Judicial Circuit. McQuagge also volunteers for Habitat for Humanity of Lee and Hendry Counties, MidWest Food Bank and United Way of Lee, Hendry, Glades, and Okeechobee Counties among other local, nonprofit organizations.
The ENPYs celebrate the outstanding work of individuals and organizations in the nonprofit world dedicated to improving the quality of life in their communities. McQuagge was recognized, along with two other individuals for the Nonprofit Volunteer of the Year award, which recognizes outstanding individuals in the community who serve an organization and/or community.
McQuagge joined the bank in 2018 as the organization's first in-house marketing director and is responsible for providing direction, guidance and leadership of the bank's marketing and community outreach efforts. She was previously the senior marketing and event manager for the Lee County Economic Development Office, co-owner of a full-service fundraising company and media buyer for several national and regional advertising agencies.
A native Lee County resident, McQuagge holds a bachelor's degree in communications from Florida Southern College and is a certified financial marketing professional through the American Bankers Association.