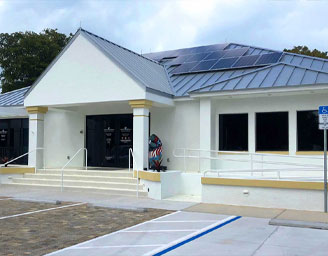 FORT MYERS, Fla. (Oct. 7, 2022) – In an effort to provide banking services to its Sanibel customers and support the Sanibel and Captiva island communities, Sanibel Captiva Community Bank is reopening banking operations in the parking lot of their main office at 2406 Periwinkle Way, Sanibel.
Bank staff will be onsite Tuesday, Oct. 11, and Wednesday, Oct. 12, from 12 to 4 p.m., to provide Sanibel residents who are existing customers with limited cash services and access to safety deposit boxes. (All banks are closed on Monday, Oct. 10, for Columbus Day.) Sanibel Captiva Community Bank will continue to provide these services in the following weeks and anticipates expanding operations to multiple days with extended hours, as necessary.
"Just last week, Hurricane Ian wreaked havoc on Southwest Florida, especially on our island and coastal communities," said Craig Albert, CEO of Sanibel Captiva Community Bank. "We are steadfast in our commitment to serving our island family and we want our customers to know that even a devastating storm like Ian will not deter us from serving them."
Customers will need to present a form of identification, as well as a key if accessing safe deposit boxes. For additional information or questions, call 239-472-6100 or 239-472-6150. For operational updates and additional bank information, visit sancapbank.com/hurricane-ian-recovery-resources.