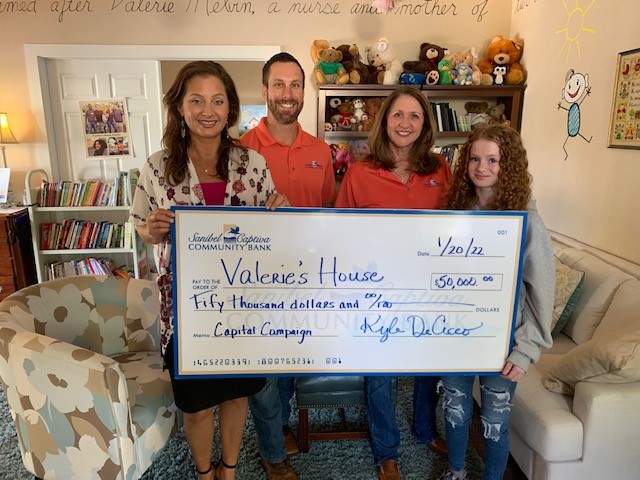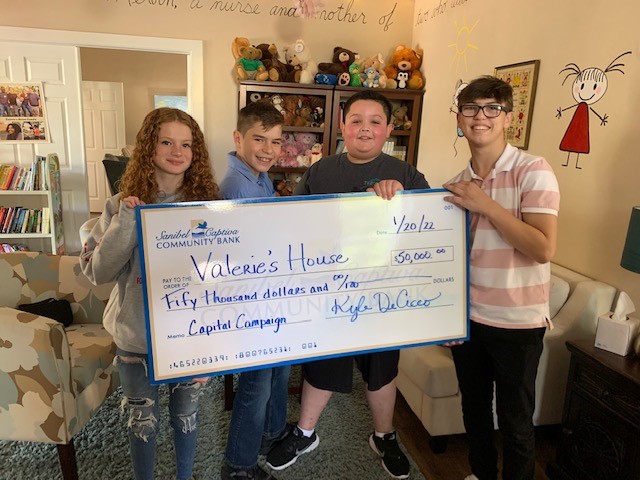 FORT MYERS, Fla. (Feb. 8, 2022) – Sanibel Captiva Community Bank has made a substantial charitable donation in the amount of $50,000 to the Valerie's House "Family is Forever" capital campaign.
The donated funds will be used to help construct a new building on a 1-acre parcel donated by the City of Fort Myers on Veronica Shoemaker Boulevard near Winkler Road. The 7,000-square-foot facility will serve as an expanded gathering place for grieving children in Southwest Florida to connect with one another and learn the tools to heal after the loss of a loved one. The building will also serve as the organization's headquarters and will allow them to reach more families who need help.
"Giving back to the community and organizations we serve is at the heart of what Sanibel Captiva Community Bank does," said Kyle DeCicco, Sanibel Captiva Community Bank president and senior loan officer. "We couldn't be prouder of the commitment our team members make to support so many local organizations they are passionate about like Valerie's House."
"The relationship between Valerie's House and Sanibel Captiva Community Bank goes back many years and is important to our children and families," said Angela Melvin, Valerie's House founder and CEO. "From volunteers, board members, help with family parties and special events to now the financial support of our dream home, we are stronger and better because of the caring people of Sanibel Captiva Community Bank who have come into our lives."
Valerie's House provides open-ended peer support groups and activities for children to heal after a significant loss in their life. Valerie's House is not a formal counseling center. It is a community and a platform for individuals to come together, share, and mentor each other through their grief. Valerie's House was the first organization between Tampa and Miami focused on supporting grieving children on an ongoing basis. For more information, visit valerieshouse.org.