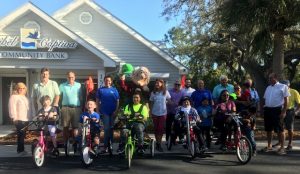 Thanks to support from Grampy's Charities and Sanibel Captiva Community Bank, Robbie's Riders presented four adaptive tricycles, worth nearly $8,000, to Southwest Florida children through its Freedom Program at the bank's McGregor branch in Fort Myers.
"These custom-made, adaptive tricycles give extraordinary children the opportunity to experience a level of independence and freedom," said Jack Johannemann, director of Robbie's Riders. "To be able to give that to a child is priceless."
Kelsey Edford, a 12-year-old girl born at 25 weeks, had heart surgery, hernia repair and a brain bleed while in the NICU. She has no means of independent mobility and lacks head control.
Jace Freeman, an 8-year-old boy, was a victim of a motor vehicle accident resulting in a traumatic brain injury and impaired use of his upper and lower extremities.
Seventeen-year-old Karolay Chirinos has a brain injury, triplegic cerebral palsy affecting her right arm and both legs, and neuromuscular scoliosis.
Allison Reyes is a 17-year-old girl with Chiari malformation, vocal cord paralysis, developmental delay, impaired mobility, syrinx of her spinal cord and dysphagia.
Brianna Godinez, an 11-year-old girl, was the victim of a car accident which resulted in her right arm being amputated above the elbow.
When riding these tricycles, the children benefit from general strengthening, new proprioceptive sensory input, and improved reciprocal coordination of the legs. They can now participate in activities with their families and peers, and enjoy the normal childhood experience of riding a bike.
The Robbie's Riders program provides special adaptive bicycles and tricycles to children with disabilities, according to their individual capacities and needs. The charity works to donate special needs cycles as quickly as they can raise funds to purchase them. Working with Claire Le Boulenge, a pediatric physical therapist with Golisano Children's Hospital who donates her services to assist, each child is evaluated and fitted for their special adaptive cycle.
Grampy's Charities has supported Robbie's Riders, opening up new avenues to fundraise and deliver adaptive bicycles to children with disabilities. Sanibel Captiva Community Bank partnered with Grampy's Charities for fundraising in 2017, making it possible for Robbie's Riders to present adaptive bicycles to Southwest Florida children.
A small, all-volunteer organization, Robbie's Riders has provided 51 custom-made, adaptive cycles to Southwest Florida children. The organization is dedicated to bettering the lives of children. Learn more at www.savethekid.org.
Grampy's Charities is a volunteer organization with no paid staff. For a quarter century, they have donated more than $3 million to children's charities. Learn more at www.grampyscharities.org.