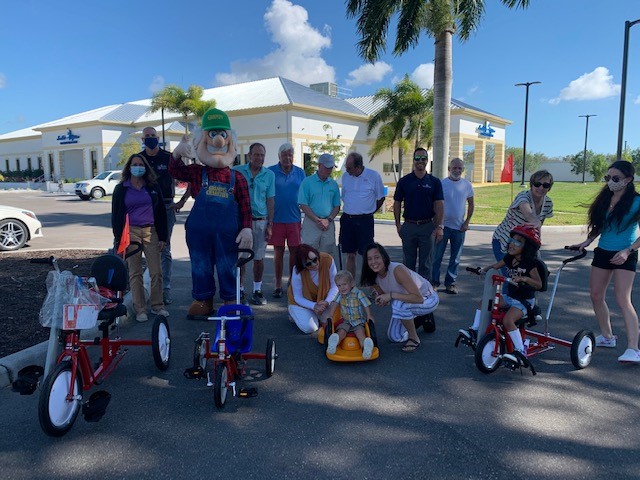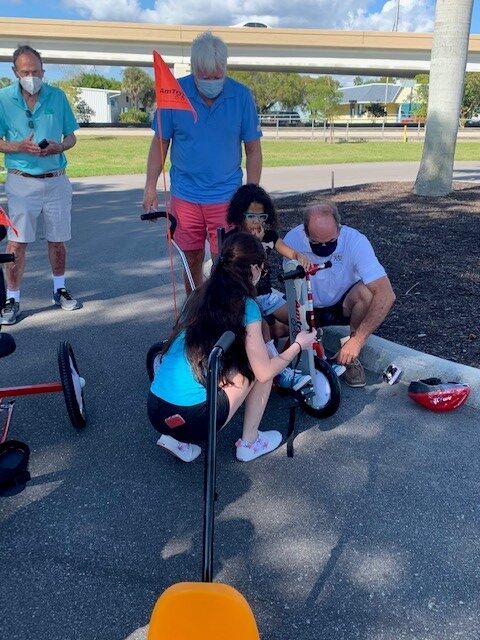 FORT MYERS, Fla. (March 1, 2021) – In February, Robbie's Riders, Grampy's Charities and Sanibel Captiva Community Bank presented adaptive tricycles to several Southwest Florida children. This latest presentation is part of an ongoing partnership between the three organizations to support the needs of area disabled children who are unable to ride a standard bicycle. Since 2017 funds raised through Grampy's Charities and major donations from Sanibel Captiva Community Ban have allowed Robbie's Riders to delivered 86 bikes to disabled children in Southwest Florida.
Children selected receive custom tricycles that assist with general strengthening, new proprioceptive sensory input, and improved reciprocal coordination of the legs. With these custom-made bicycles they can participate in activities with their families and peers enjoying the normal childhood experience of riding a bike.
Robbie's Riders provides special adaptive bicycles and tricycles to children with disabilities, according to their individual capacities and needs. Robbies Riders is the most exclusive program of Save the Kid. Save the Kid Fund, Inc is a charity that works to donate special needs cycles through Robbies Riders. These adaptive cycles are donated at 100%, resulting in no cost to families. This popular program donates cycles as quickly as they can raise funds to purchase them. Working with Golisano Children's Hospital of Southwest Florida, children are evaluated and fitted for their own special adaptive cycle. Southwest Florida children with disabilities that
limit them from riding a standard bike may be eligible to receive a bike. For more information about Robbie's Riders, visit https://www.savethekid.org or email Jack Johannemann at john_johannemann@yahoo.com.
Grampy's Charities raises funds and support for children's organizations by partnering with comfort and research-based charities to make a difference in the lives of kids who need it most. An all-volunteer organization with no paid staff, they have donated more than $3 million to children's charities over more than 25 years. For more information, visit www.grampyscharities.org.